Telling a story everyone in the coffee industry should know, the initiative for coffee&climate (c&c) highlighted the impact of climate change on smallholder families' livelihoods during Frankfurt Coffee Festival 2021. The 3-day festival organized by the Specialty Coffee Association Germany was the perfect place for passionate coffee lovers to finally reunite. After more than a year of social distancing and postponed events, it was no surprise to see Union Hall filled with energy and inspiration. The venue was overflowing with an excited group of coffee baristas, roasters, and drinkers that travelled from around the country to learn, exchange and come together as part of the coffee community for the entire weekend.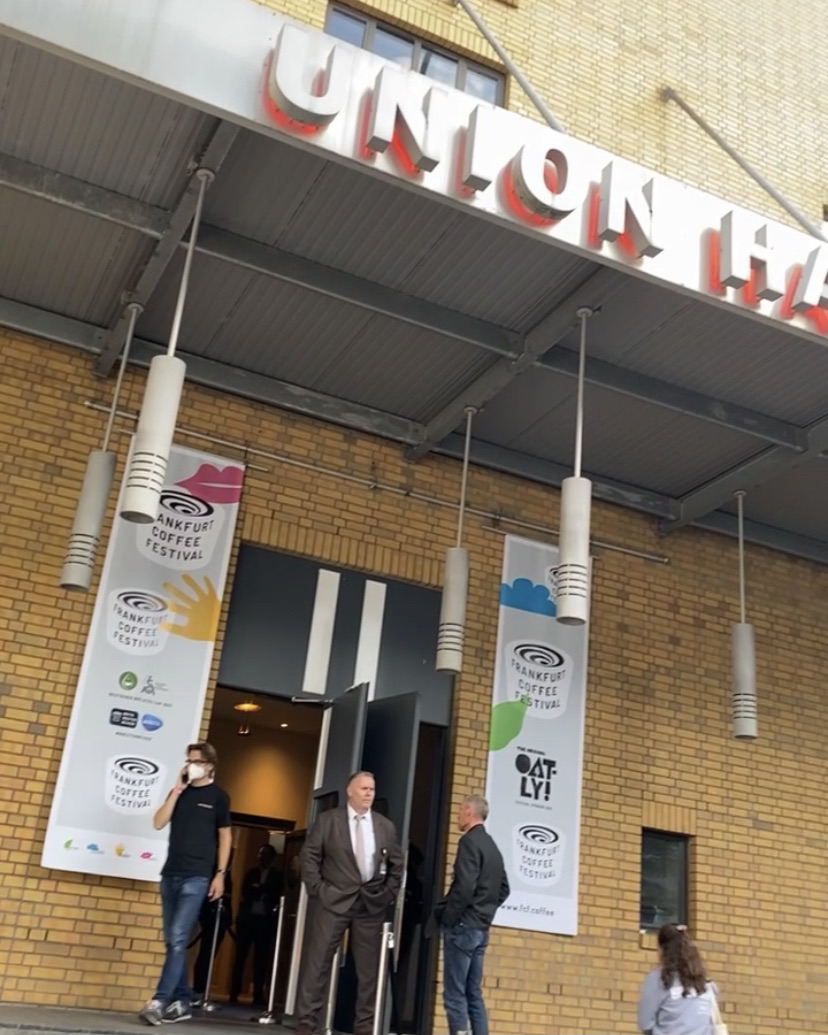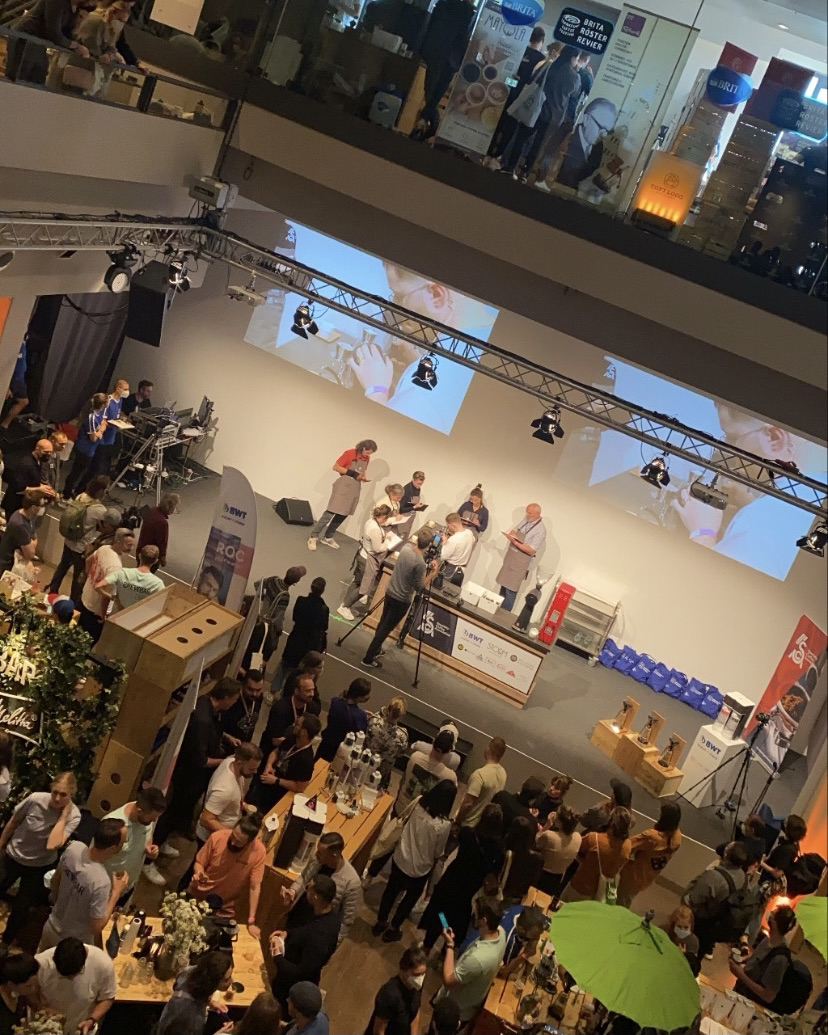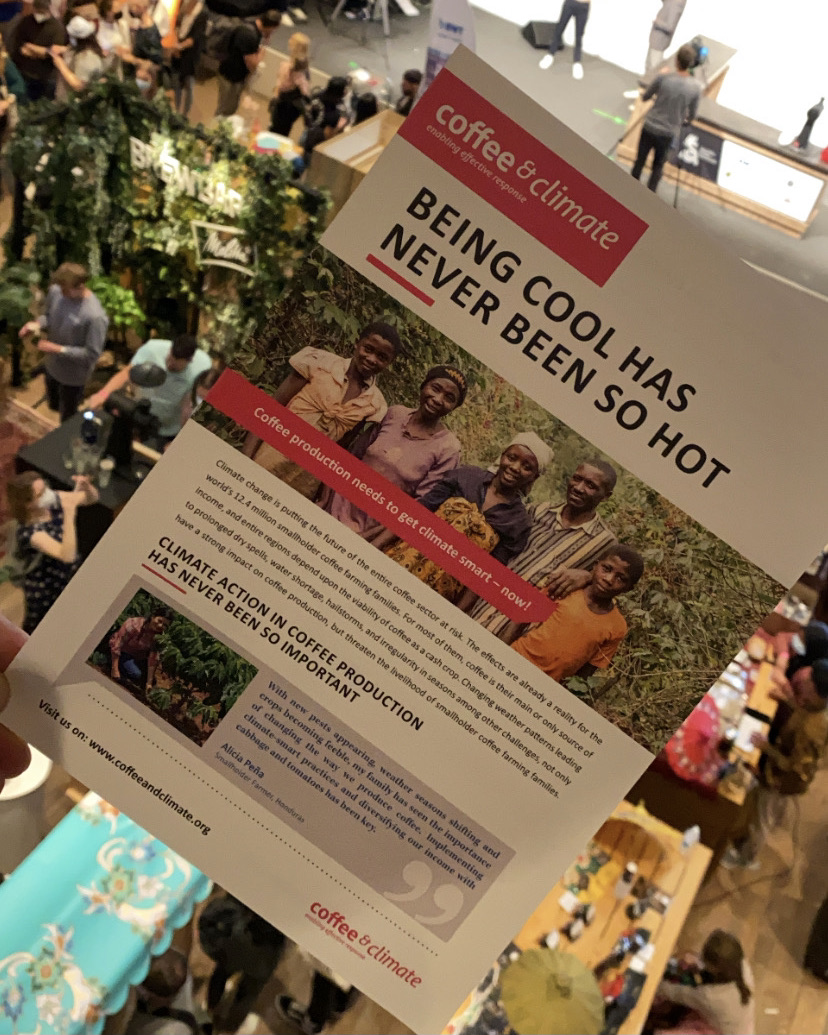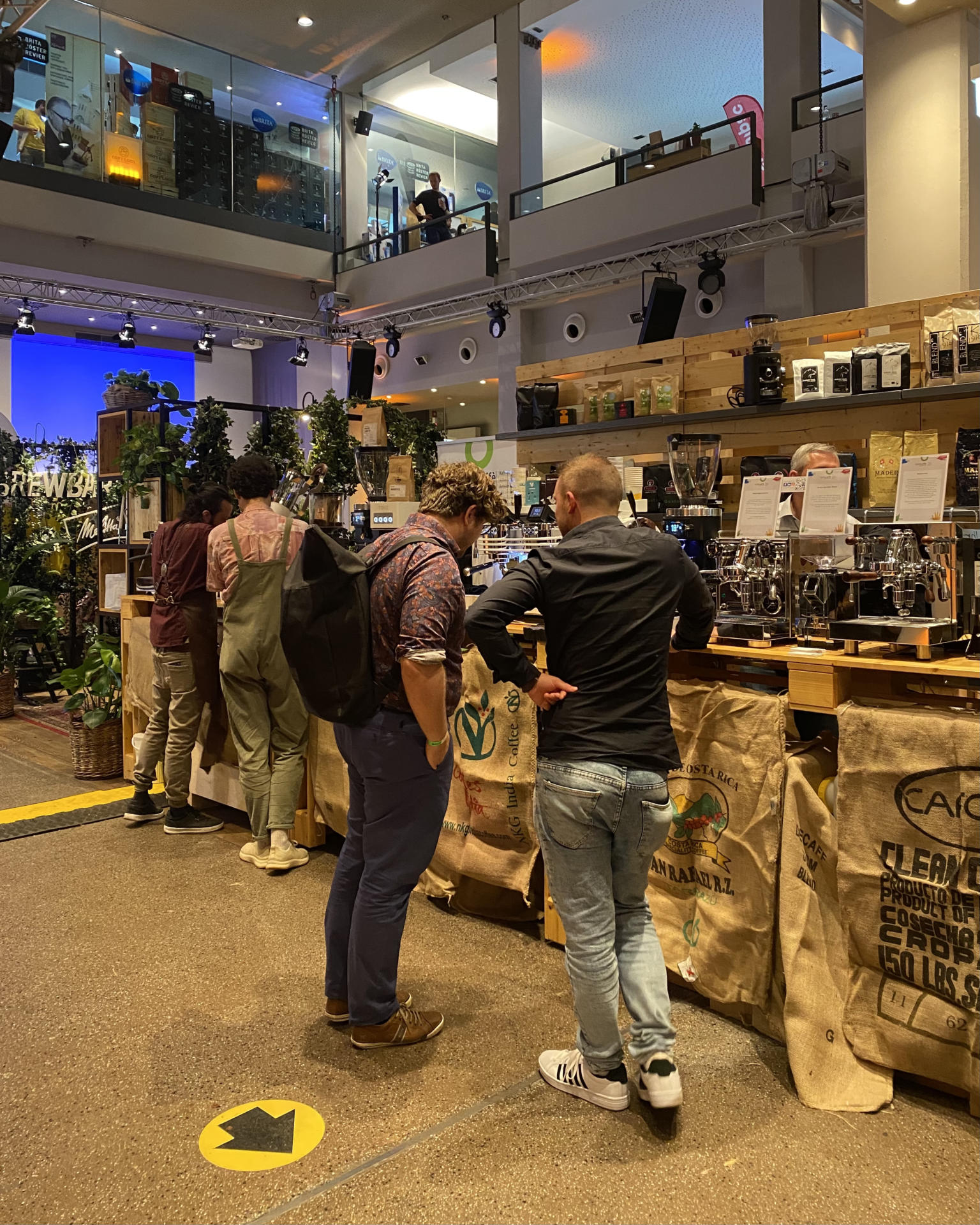 Frankfurt Coffee Festival 2021
Stefan Ruge, program manager of c&c, highlighted the effects of climate change on smallholder families worldwide. During his presentation, he addressed key topics on changes in temperature and rainfall patterns, the outbreak of pests and diseases, adaption of climate-smart agricultural practices, and integration of youth, among others. In addition to encouraging the coffee community to get involved and identifying the role each and every one of us play in this matter, he also offered solutions on how to address these challenges and the role of c&c in developing these responses. Followed by the screening of the documentary film "It's Bean Too Hot", the room quickly filled up with dialogue, questions, full focus, and conversations about this urgent topic. Listeners wanted to know how families can improve their climate resiliency and livelihoods, while still being interested in growing coffee.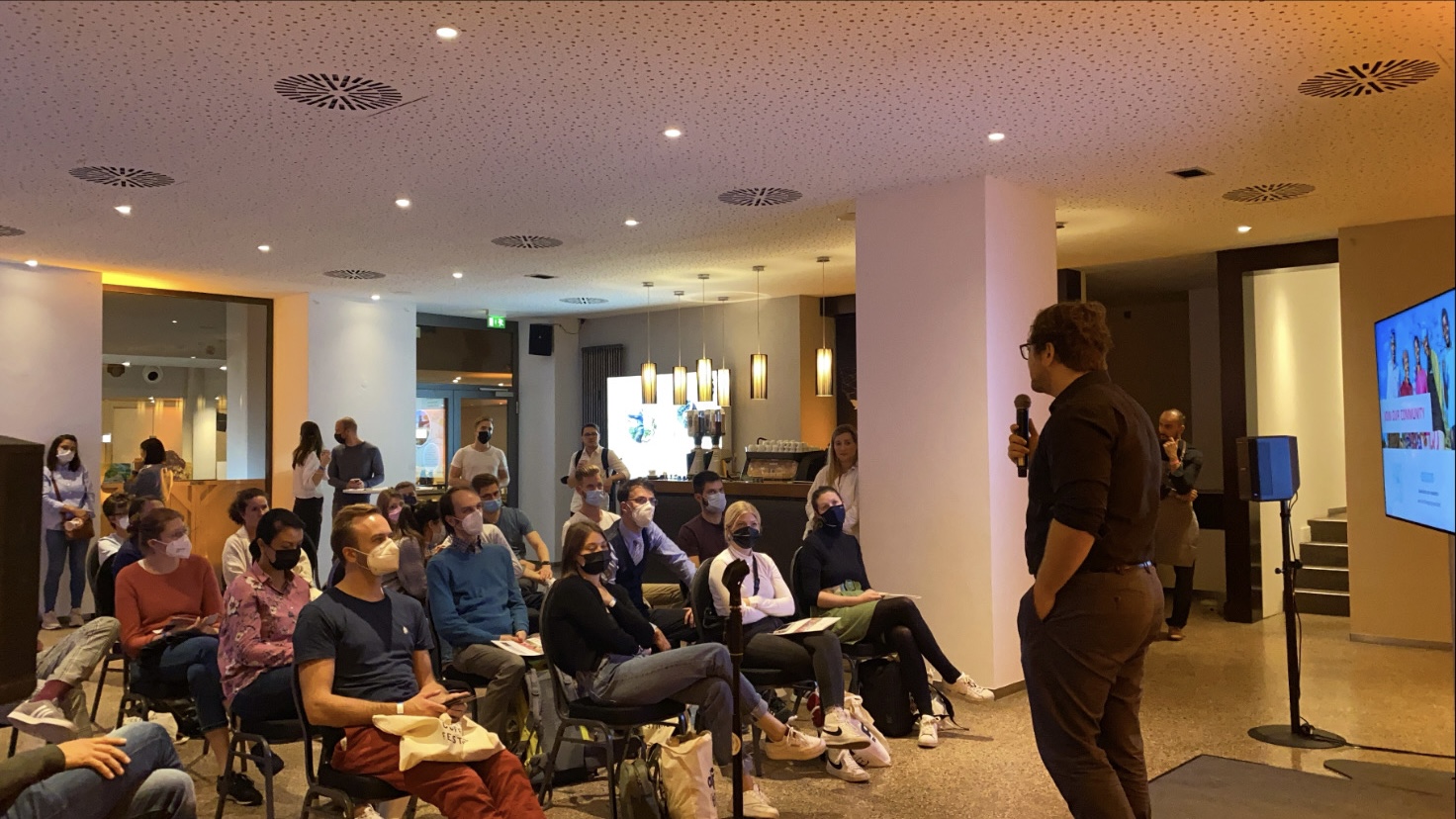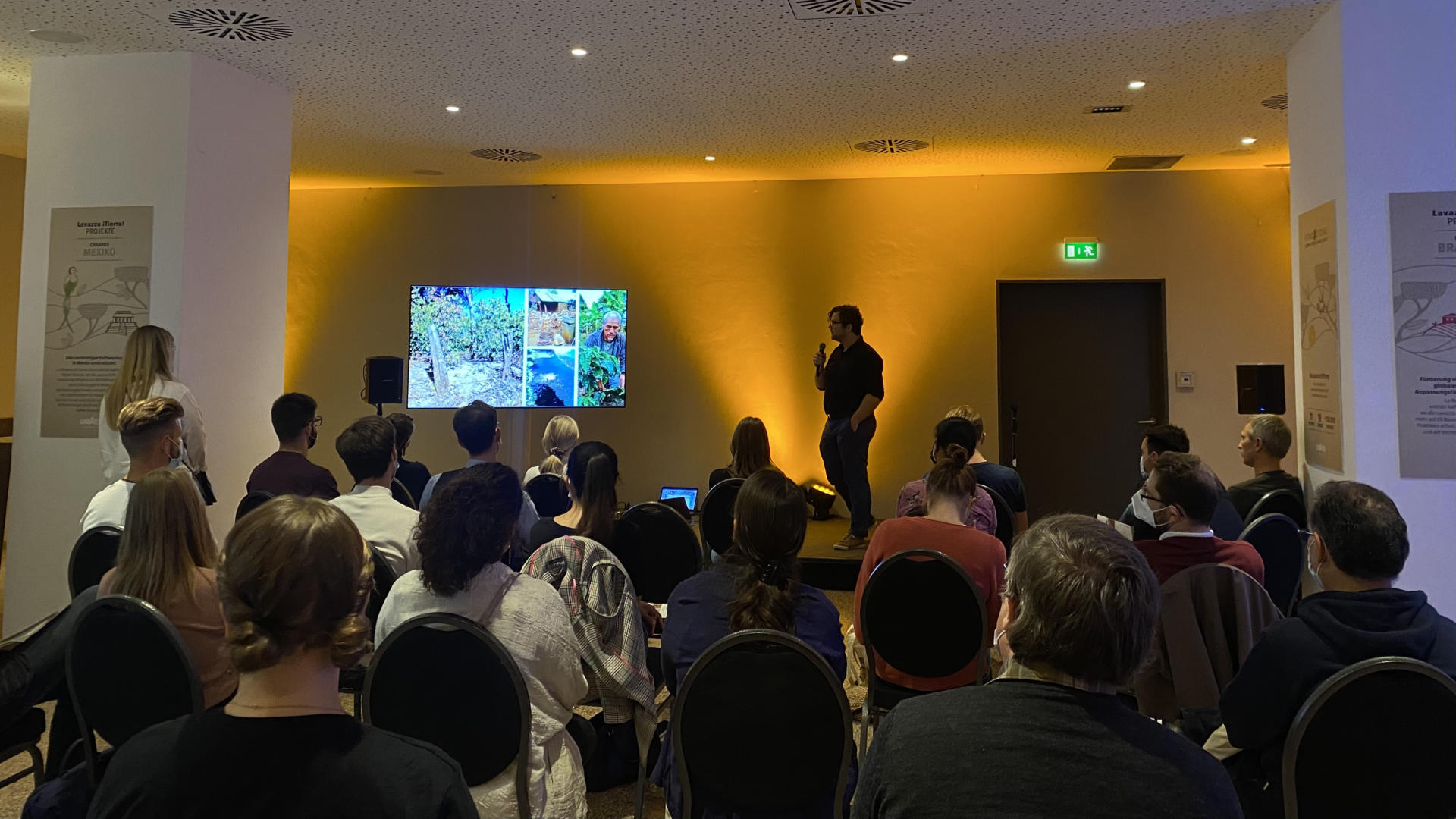 Stefan Ruge, program manager of c&c, speaking about the effect of climate change on smallholder families
As we slowly said goodbye to Frankfurt Coffee Festival, one thing is for certain: interest in keeping coffee more attractive for smallholder coffee farming families has risen. The coffee community is much more aware about the need of going beyond quality and focus on the people producing it instead. It became clear that specialty coffee needs to do more than just telling a story. They need to respect and support smallholders who are growing coffee as a means to improve their livelihoods. While they are eager to learn more, we need to make sure that this happens.
The initiative for coffee&climate is based on the power of pre-competitive partnerships. We are unified by the wish to build a climate-smart coffee sector not by talking, but by acting. As the challenges of climate change for coffee production are too big to be tackled alone, c&c is the ideal solution for the coffee sector to respond together in a practical way that cannot be found in other setups.
learn more about the initiative for coffee&climate